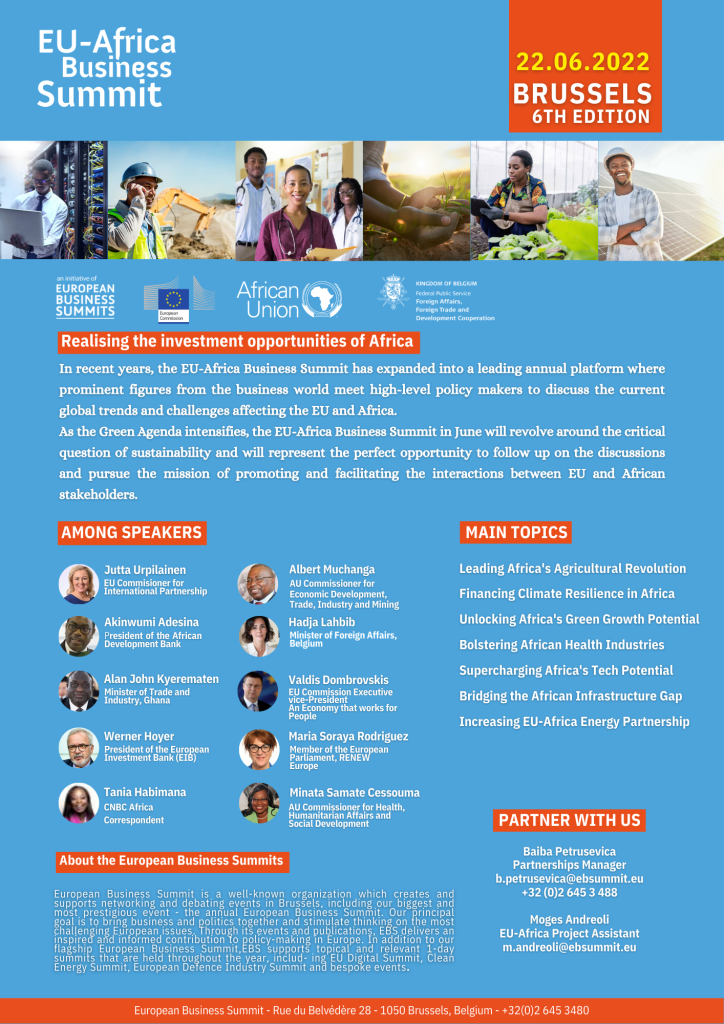 Dear Valued Partner,
EU-AFRICA BUSINESS SUMMIT, 22, JUNE 2023, Egmont Palace, Brussels.
Cowrie Partners in conjunction with European Business Summits are delighted to inform you that the 6th edition of the prestigious EU-Africa Business Summit, will take place on June 22, 2023. The Summit will offer its Partners the possibility to promote their business strategies and highlight their priorities to prominent decision-makers, business leaders, and officials from the European Union and African Union institutions, corporate entities, and academia.
Here are more details that you will find useful:
     A.    Introduction:
The European Business Summit (EBS) is a renowned organization that creates and supports networking and debating events in Brussels, including its biggest and most prestigious event – the annual European Business Summit. EBS is proud to acknowledge the High Patronage of His Majesty the King of the Belgians, the European Commission, and the Patronage of H.E. Mr. Alexander de Croo, Prime Minister of Belgium.  EBS leverages more than two decades of experience in organizing renowned high-profile summits including the EU-Africa Business Summit.
The EU-Africa Business Summit is a high-level networking and debating event to promote the voices of enterprises in Europe and Africa. Annually gathering +350-strong high-level attendance, the Summit brings prominent business leaders, policymakers, and experts together to find answers to the most important policy challenges.
Africa is Europe's closest neighbour. The ties that bind Africa and the European Union are broad and deep as a result of history, proximity, and shared interests. It is for this reason that the privileged partnership between the European Union and Africa should be strengthened by clearly establishing common objectives and the means to fulfill them.
The EU-Africa Business Summit is organized in coordination with the African Union, the EU Commission's Directorate-Generals for International Partnerships and Trade, and the Ministry of Foreign Affairs of Belgium.
This year, the Pillars of the Summit are:
| | | | |
| --- | --- | --- | --- |
| Agriculture and Supply Chains | Energy and Sustainability | Infrastructure, Investment, and Finance | Trade and International Partnerships |
        B.  Take the Key Benefits of Partnering with the EU-Africa Business Summit:
1.  Increase your visibility to new business opportunities and connections between
     possible partners.
2.  Make your views and opinions heard by the EU and African policymakers.
         C.  Get a Speaker Slot at a Summit Session:
The Summit will hold in June 2023 in Brussels and will include different session configurations (High-level Panels, Roundtable Discussions, etc.) with the participation of speakers from the EU Institutions (EU Commissioners, Directors, etc.), the African Union, European and African C-level business representatives, Experts (Academia, Think Tanks) and Moderators from International Media outlets. (Financial Times, Bloomberg, WallStreetJournal, Euronews, CNBC Africa, Africanews, Jeune Afrique, etc.)The proceedings of the Summit are often found in the post-event content of our international media partners in the form of articles and video reports.
Our sessions are a great opportunity for companies to increase the visibility and profile of their activities and their leaders amongst the decision-makers, both in the EU and Africa. The sessions are also a platform to address and tackle regulatory challenges and provide avenues for making rewarding connections between possible partners.
Many prominent companies – Google, Amazon, Meta, Siemens, Apple, Airbus, SUEZ, MasterCard, Breakthrough Energy, ENI, Huawei – have in the past chosen to partner with us for various summits, creating or participating in bespoke sessions where real challenges and opportunities are discussed with the relevant political figures or experts that support their vision. (examples here).
Our panels normally are composed of 4-5 speakers, including a moderator, and include a representative from the European Commission, a Member of the European Parliament, representatives from private/public entities, and a member of an Academic institution/NGO/Think Tank.
      D.  Exclusive Interviews:
The EU-Africa Business Summit in 2023 will offer the possibility to create a Live TV interview to take place at the Egmont Palace in Brussels. The EU-Africa Business Summit Live TV broadcast, hosted by an international media journalist, will enable a wide outreach to key and targeted stakeholders (audience of circa 3,000 viewers online + 350+ in-person guests).
It serves as an excellent opportunity for companies to promote and profile their leaders and make their views and opinions heard by the policymakers of the EU and Africa. (examples here).
The Exclusive Interviews are conducted with journalists of our partner media organizations with a pre-agreed direction of the conversation.
       E.  Host a private networking event/ Take an Exhibition Stand
EBS provides partners with the opportunity to host a private networking event under different formats (25 to 50 people) at the Egmont Palace. This can be a networking cocktail, breakfast, or business lunch. You can also take a stand at the Egmont Palace, e.g. main court, foyer, and gardens. The space will provide the perfect environment to network, and share knowledge, best practices, and innovative ideas with a wide audience.
The Flyer of the Summit is to be found below this letter. In case you would like to know more about the Summit Agenda and the List of available Partnership Opportunities, please do not hesitate to contact me directly through my email and phone details below. For EBS General Brochure – please see it here.
We look forward to hearing from you and are happy to meet with you to discuss potential paths of collaboration and explore possible synergies between your organization and the EU-Africa Business Summit.
Thanks, and best regards,
Sola Adeyegbe
Sola Adeyegbe LL.M (Dundee)
Cowrie Partners
Tel: 08162902228; 08122869720
http://cowriepartners.com/olusola-adeyegbe/
https://www.linkedin.com/in/sola-adeyegbe-91b24aa/?originalSubdomain=ng