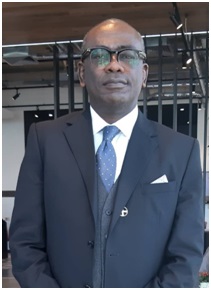 OLUSOLA ADEYEGBE
LL.b, B.L, LL.M
Olusola served as Chief Regulatory Affairs/ Government Relations Officer of Ibadan Electricity Distribution Company and had previously held the role of legal counsel in three Nigerian Banks and two insurance companies. Working closely with some Federal Ministries between 2001 and 2004, he organized National conferences on Banking/Insurance, Aviation and Energy amongst others.
The communiqués issued through these seminars were passed on to government. This led to Olusola's appointment as a member of the Nigerian Civil Aviation Policy Review Committee in 2002 and subsequent engagement as Resident Aviation Specialist engaged by the World Bank Privatization Support Project to work with Nigeria's Privatization Agency – Bureau of Public Enterprises (BPE). At BPE, he was involved with the review of the Nigerian Civil Aviation Act and advised the Nigerian government on the regulatory aspects of the transport sector. He was later general counsel at African Capital Alliance a private equity group.
He has been involved with the documentation of many private equity portfolio investments in various sectors including telecommunications, real estate, banking, manufacturing, and energy.
Olusola was admitted to the Nigerian Bar in 1986 and has a Masters in Petroleum Taxation& Finance from the Centre for Energy, Petroleum and Mineral Law and Policy, University of Dundee, Scotland. He is a member of the Energy Institute and member, Section on Energy & Resources Law of the International Bar Association.
Olusola brings to Cowrie Partners his varied experience in documenting legal transactions and his expertise in designing cutting edge industry Seminars.